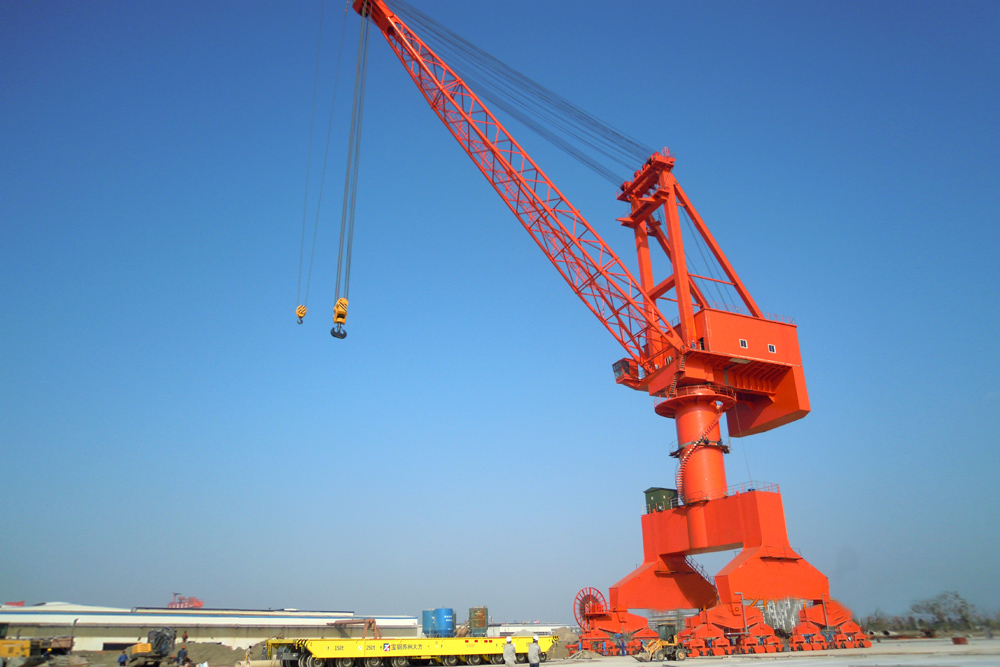 Genma level luffing crane has four working mechanisms, which are luffing and traveling while both can work independently and collaboratively. The linkage among all mechanisms greatly improves the equipment's productivity. It moves stably with safety and reliability.
Details
Parameter
Feature
Case
Genma level luffing crane with lifting capacity of 110-250t and span range of 20-50m.

Genma level luffing crane is a type of cylinder rotating disk type crane, which is mainly composed by boom, slewing platform, lifting mechanism, luffing mechanism, slewing mechanism, machine room, cabin, cylinder-type portal, balance girder, withstand wind device and other safety guard.

Rated load: 110-250t
Span: 20-50m
With rich experience on design and manufacture of this series, the products have received high praise from the customers for the reliable and smooth performance.

Client: Jiangsu New Yangzi Shipbuilding Co., Ltd.
Model No.: MQ4568 Portal Crane

Client: Jiangsu Yangzi Xinfu Shipbuilding Co., Ltd.
Model No.: MQ4540 Portal Crane

Client: Nantong Port Group River-Ocean Port Branch
Model No.: MQ16T Portal Crane with Grab

Client: Xiamen Ship Heavy Industry Co., Ltd.
Model No.: MQS3250, MQS8040, MQ5060 Portal Crane

Client: Zhejiang Zengzhou Shipbuilding Co., Ltd.
Model No.: MQ4062 Portal Crane

Client: BAE Systems San Diego Ship Repair
Model No.: MQ5449 Portal Crane

Client: Nantong Dongxing Shipbuilding Co.,Ltd.
Model No.: MQ6046 Portal Crane

Client: Jiangsu Haixin Shipping Heavy Industries Co., Ltd.
Model No.: MQ3265 Portal Crane

Client: Jiangsu New Hantong Ship Heavy Industry Co., Ltd.
Model No.: MQ4573、MQ6070、MQ4573 Portal Crane